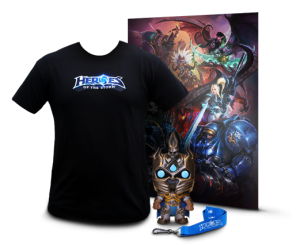 Want to win lots of cool Heroes of the Storm gear? Like a signed Heroes poster, a Heroes T-Shirt, a Heroes Lanyard, A Blizzard Fuko Pop! toy. They will be giving 25 of these sweet prize pacs. All you have to to is follow this link here: http://splur.gy/r/kNDqX/r/2KMty6dNYSW.
It is one of those contests where you like the official page on Facebook, follow them on Twitter and all those sort of things to earn points.
Need to catch up to date on my Heroes coverage?
It starts with my Dear Blizzard, Please Get Me Into Heroes of the Storm open letter.
I then covered how many fans fear the hype for Heroes of the Storm is falling with The Sky if Falling on the Heroes of the Storm Hype Train. TLDR of that, things are fine.
I also made a post on Keeping Up With Heroes of the Storm, a small collection of sites to visit to keep up to date on the game.
That is as much coverage as I've done so far as I'm not in it yet (wink wink nudge nudge Blizzard).
Don't forget to sign up for beta access at Heroes of the Storm. The game will be free on release.
The contest is open from 7 April 2014 to 7 May 2014. Full rules are at the http://splur.gy/r/kNDqX/r/2KMty6dNYSW site itself.